What's a Linkup?
As relatively new bloggers, we're not exactly sure if we did this right. However, we (are pretty sure we) posted a couple of our recent posts in a "Linkup" at one of our favorite blogs, A Wise Woman Builds Her Home. A Linkup is a special blog post where bloggers from across the world wide web can add links to their own posts on whatever topic the host requests. So, the post ends up being a big repository for many different posts from many different authors, all on one central topic or theme. It's a wonderful resource for busy moms!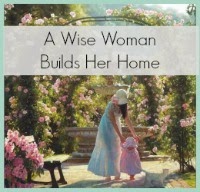 How Do I Find the Linkup?
If you visit A Wise Woman Builds Her Home using the link below, or if you search the Wise Woman blog for the March 13 Titus 2 Linkup, you'll find more than 85 blog posts from various blogs on topics related to Christian womanhood – faith, parenting, homeschooling, cooking – all kinds of helpful information.
Talk to us!
Enjoy the Wise Woman Builds Her Home post, and let us know what you thought! Which post in the Linkup was your favorite (we won't be offended if it isn't ours…probably)?