Some Strange but Simple Ways to Stop Spending
For some reason, the change of seasons always makes me want to buy stuff. Especially this time of year, when the weather is warm again and there are so many things we need to do outside. I've been daydreaming about buying all kinds of things…tools (doesn't everyone need a miter saw??), a trampoline (I know, I know), new bikes for the kids, lumber for all sorts of projects, books about homeschooling, books about gardening, books about food, books about books, summer clothes for everyone, a rabbit hutch (because, though I hate the rabbit, I want it to be happy)…it's a long, expensive list. As a one-income family, most of our purchases that aren't absolutely necessary have to stay daydreams (don't worry, Grandma and Grandpa, the trampoline will never happen). It's not actually as hard or painful as you might think to NOT buy something. In fact, sacrificing the things on my list for the lifestyle that I've chosen makes me feel really, really good. When I can manage to do it, that is.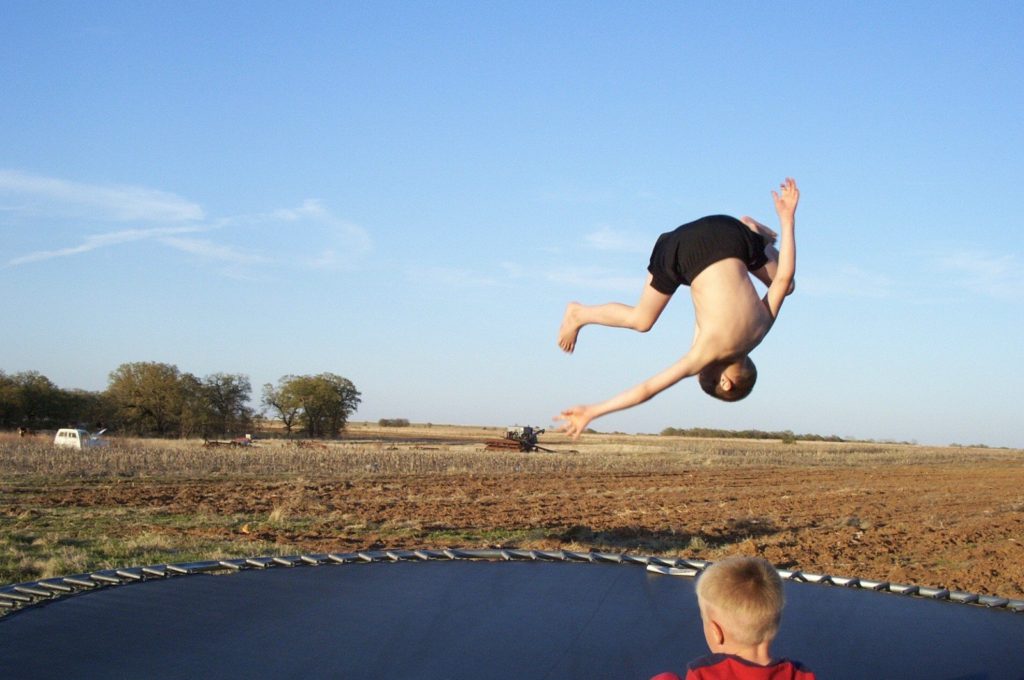 In our culture, it seems like the whole point of human existence is to get as much money as possible so that we can buy whatever we want. We don't want to have to budget, or save up for something, or go without. We've been tricked into thinking that having more stuff will make us more happy. I've been seduced by "stuff" many times, believe me. I have closets that prove it. But shopping and spending money is not "therapy." Often, the fun is gone even before we get our new purchases out of the package, which leads me to my first strange but easy way to stop spending:
Think about all of the negatives of making this purchase. Example: the trampoline. Brainstorm with me for a moment on all of the downsides of buying a trampoline…

It's going to come unassembled, and my husband and I are going to have to put it together. Or, realistically, I will have to put it together, because my husband does NOT want a trampoline and will probably not want anything to do with it. I am inept at assembling things. It will take forever, I'll have to undo and redo things, and my kids might hear me swear. This will be at least a couple of hours of my life that I will never get back.
I don't understand how people mow around trampolines. Do they move them? Do they scoot the mower as far under it as possible from all sides? Does the grass under it eventually die? Do I want it to die, or do I rotate the trampoline around the yard to spare the grass? I'm pretty sure it will make mowing the lawn harder, and who needs that?
The kids will fight over who gets to be on it. No one will want to be on it with the younger kids. The younger kids will get bounced on and cry. I will have to spend hours and hours refereeing the trampoline, when the whole point is supposed to be that they play on the trampoline and leave me alone, in peace, for several hours at a time.
Trampolines get blown over and destroyed in the wind. You can anchor them somehow, but I will be bad at doing that or avoid it altogether. Every time it's windy (which is nearly every single day here), I will be worried about the trampoline.
I have always been told that trampolines affect your homeowner's insurance. Or in our case, renter's insurance. Or would it somehow affect my parents' insurance, since they're our landlords? I can just imagine someone's friend coming over and breaking their arm on the trampoline and it costing us a gajillion dollars and the friend not liking us anymore and my parents not liking us anymore either.
This next one is sort of related to #1, but I think it's important enough to stand on its own: Think about how you're going to store this item. If you have a large family, or a small house, or both, storage is a major ordeal. I spend SO MUCH TIME getting things in and out of our storage room, and reorganizing the storage room, and searching for things in bins that are either not labeled or labeled incorrectly (because by the time I get whatever it is into the bins, I'm too sick of sorting things to make out labels). Sometimes, the thought of having to find a place for the new thing that I want is enough to deter me from buying it. How does one store a trampoline? Surely I'd have to take it down each year and reassemble it, or it's going to disintigrate in our endless midwestern winter. And then parts will get lost, and people will go looking for something that's under the trampoline and inadvertently rip/bend/snap something, which will remain a secret until it's time to reassemble the thing for next year, and I won't find out until it's 90% put together that a key part is missing, and my children will have to hear me swear again.
Remember your major life goals. Is one of them "accumulate a lot of cool things that I don't really need"? How about, "give my children everything they ask for because they are so cute and also annoying when they want something"? Um, no. Most of us have major life goals like, "help my children become great people", or "pay off my mortgage." Many of our purchases either have nothing to do with our bigger goals or actively work against them. Sacrificing something silly that you don't need (yet another $20 water bottle?) is so satisfying when you see it as taking another step toward the person you want to become. Everyone knows the old adage, "you are what you eat." I say, you are also what you buy. Do you want to be a $16 wreath from Wal-Mart? I didn't think so.
Think about how good it feels to have enough room in your drawers/closets/toy bins for all of the things that are supposed to go in there. I LOVE it when I'm putting clothes away and I can actually fit all of them into the drawer. I love it equally when I'm putting toys away and I don't have to arrange each item like a jigsaw puzzle so that the toybox lid will shut. Okay, I don't actually know how either of those things feel because they never happen in my house, but I can imagine these being very satisfying experiences. One major barrier to having a clean and organized house, for me, is that there are too many things and not enough places to put them. I have a permanent pile of clothes in the laundry room because no one has quite enough room for all of their clothes in their drawers. Toys are stashed everywhere, because no one place has enough room for all of them. Do I want to make this situation even worse by buying more?
Stop trying to decorate for each season. I have a box of "fall" decorations. A box of "Easter" decorations. And let's not even talk about the Christmas stuff. Right now, stores are full of the CUTEST spring and summer decorations…wreaths, wall hangings, knick knacks, vases of fake flowers…I love all of it. But I do not love putting it away. I absolutely hate packing this kind of stuff up into a tote, labeling the tote, and finding a place for the tote. So, when I see an adorable little whatever it is that would look fabulous in my living room, I just imagine myself having to take it down in 3 months and find a place in a box for it, and my desire to own it disappears completely.
This next one works very well with gifts and toys for my children: remember their reaction the last time you bought them something special or something they begged for. Because their reaction is ALWAYS the same:

Joy at finally having this wonderful thing that they have ALWAYS wanted.
(30 minutes later) Indifference.
(1 week later) The wonderful thing is either lost or broken, and begging for something else is well underway.
Think about what you already have that could serve a similar purpose. Do I want a miter saw? Yes. Do miter saws do things that circular saws can't do? Yes. But I already have a circular saw, and none of my projects actually involve miter cuts. So, I guess I don't need a miter saw (yet, anyway…). When it comes to decorations for the house, or furniture, one great cure for me is to just rearrange what I have. It's amazing how different a room can look when you just move a few things around. As far as clothes go, I remind myself that everyone in my family, youngest to oldest, regularly wears just a fraction of their overall wardrobe. We each have a favorite 3 or 4 outfits that we wear all the time, and everything else just sits in a drawer. Odds are that whatever I buy is not going to make it to the "favorites" list. Most of what I buy, especially for the older kids, never even gets worn (unless I beg/force them to, which does not make for a pleasant day). And I have yet to find the outfit that makes me look 25 again. I've finally learned that I look pretty much the same no matter what clothes I have on…so buying them is a lot less exciting than it used to be.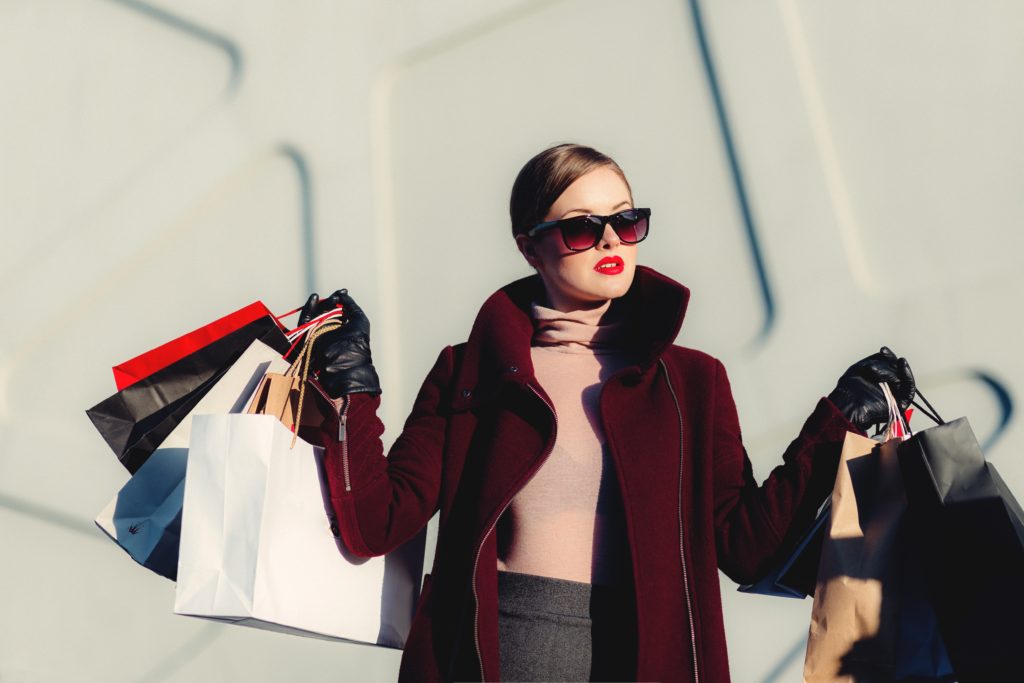 Stay home. Don't go to the mall. Don't go to the grocery store (shop online instead! It is awesome! Read more here!). Don't take long road trips. Don't go out to eat. Stay away from temptation, and you'll avoid having to say "no." I don't want you all to become hermits, or to never have any fun ever again. Did you know that staying home is actually a very enjoyable way to spend your time? If every family stayed home together more, we'd live in a better world. Make homemade food. Make crafts with random stuff you find around the house and yard. Play with the toys you already have. Read out loud to each other. Play video games (did I really just write that?). Have conversations, or sit together in peaceful silence. Invite friends over. Clean the bathrooms together (not with friends; that would be weird). Take naps. Sit outside and draw what you see. Walk to the library, or the park, or somewhere else that's free. Give each other funny hairdos. Make a fire in the fireplace/firepit. Relax! It's okay to do something that does not involve earning or spending money.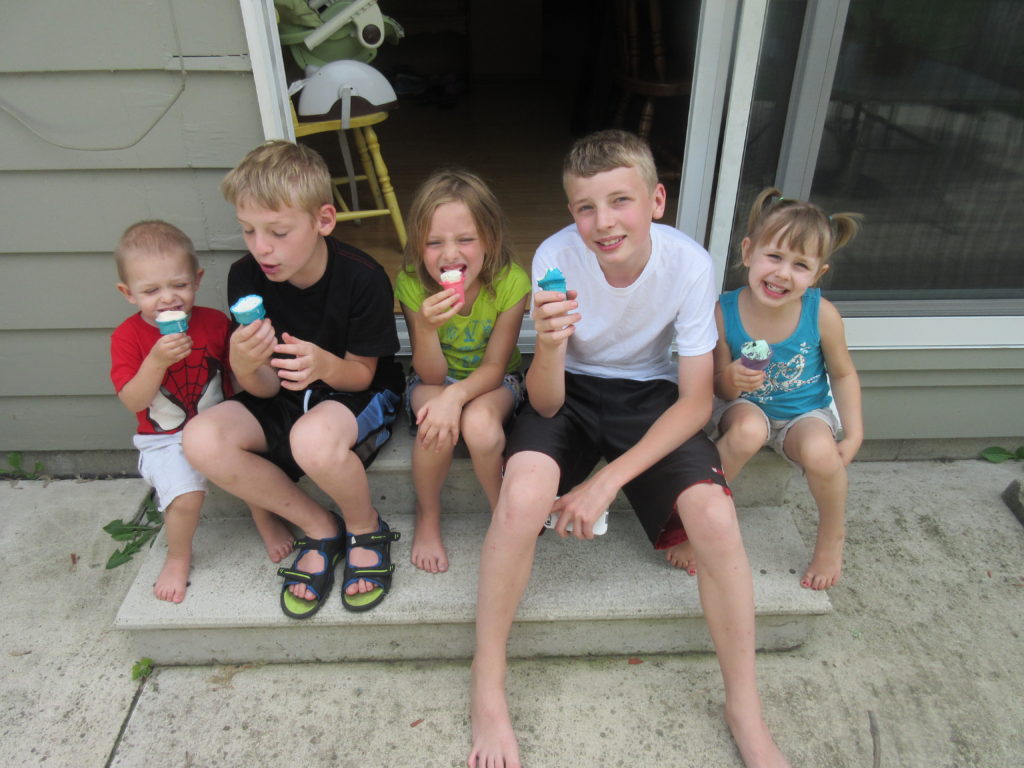 The point of all these tips is that it can be easy, enjoyable, and rewarding to keep your money in your wallet (or bank account…my wallet never has any actual money in it). Spend money when you need to, and occasionally just when you want to, but don't look at it as a hobby, or as therapy, or as something you need/deserve after a long week of work. Don't try to keep up with the Joneses. Shock them with the joyfulness of your empty-drawered, trampoline-free lifestyle.