Follow my blog with Bloglovin
Whether you are already staying home with your kids or are thinking about making the transition from work to home, we want to assure you that you are doing the right thing for yourself and your family. There is considerable negativity surrounding the subject of stay-at-home moms, and in fact, there are many reasons that mothers themselves find NOT to stay home- that they can't afford it, that their kids would drive them crazy, that they spent the money to earn a degree so they have to use it, that they are too integral to the job they have that they can't leave, etc.
To add to our own doubts, there are those around us who don't support SAHMs. Who may think we are wasting our time and talents not being in the workforce, who question our productivity and usefulness, who believe that our identity comes from our profession alone.
You may even feel this way about yourself. I spent a considerable amount of time and money earning an advanced degree and working and have now decided to stay home with 3 teenagers. Why? Because-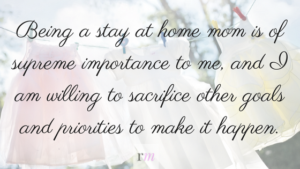 Of course, some of these things can be achieved if you are a working mom. In my experience though, many things suffered because of my absence from my home. When I was a working mom, I always felt torn between two worlds, and not truly engaged in either. I was stressed, short-tempered, and tired. Sometimes, the housework would get done. Sometimes I ate right and fed my family a balanced meal. Sometimes I yelled at everyone all night after work. Sometimes I broke down, overwhelmed by it all. Most of the time I felt inadequate both at work and home.
Now I feel balanced. Whole. Purposeful. Happy.
We know that this is what being a SAHM can do for you. Here are our top 22 reasons to be a SAHM.
Create a closer relationship with your children. Get to know them better. Be there for more.
Spend less money– on food, gas, clothes. No work = no expensive, dressy work outfits. This was a big relief for me.
Your home can be organized, clean, and peaceful. As a working mom, I always had home projects half complete. We were always looking for a lost item or wishing we had done a load of laundry because today there are no clean socks.
Your kids will be happier. We promise.
You can take a spontaneous trip to the park/pool/store/library. You can sit down and play a game when your little ones ask.
You can wear pajamas. All day if you want.
Host play-dates. Talk to other moms about mom things.
Less anxiety for you and your kids. Less hurrying and rushing- calmer mornings and evenings.
Have fewer commitments and more free time. Many activities simply disappear once you aren't working. For me that was committee work, grading papers, and scheduling appointments after work.
Be healthier. More meals at home, time to plan and make good food choices. Use the food you have instead of buying more and throwing food away.
Get fit! Have time for working out. Lots of working moms I know complain about not being able to find time to exercise or go to the gym. I exercise at home (for free) because my schedule is less full.
Make your husband lunch. Eat together. Have day-dates.
Less worry. One of the kids is sick? Don't fret about the babysitter, sick time, and being able to leave work.
You will be happier. We promise.
Sleeping-in in the summer! Naps!
Be involved in your church. I don't know about you, but as a working mom I only had time for Sunday worship. Now I can study, volunteer, and get more meaning out of my church life.
Do something you always wanted to but didn't have time for. For me this was writing this blog with my sister.
Homeschool. Have you been thinking about it but it didn't seem possible?
Have a closer relationship with God. Have time for prayer, reading your Bible, journaling, and reflection.
Your kids can wear pajamas all day. We love pajamas.
Host things at your house. As a working mom, my house and my mind were never ready for company. Now they are.
Your husband will be happier. We promise.
Read this list again and again if you need to. Share it with your husband. Talk about which of these reasons really connect with you. Start working on your plan to transition from work to home.
The more you can focus on what you will be gaining, the less you will worry about what you are giving up, and the faster you will be able to find your joy at home.